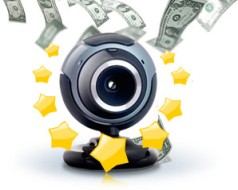 We are always looking for People from around the world:
- Asian - Arabic - Latin - African - American - European ...
Do you have what it takes ?
Eager to show who YOU are ?
Relaxed in front of a WebCam ?
Full or Part Time
No Cam Experience Needed
Lets give it a try !
All you need is internet access and a webcam! You don't need to download anything! With Tamtracam,
you are your own boss! No more waiting to hear on projects or having to sit through an exhausting
daya of interviews- you decide when you go online, and get to control your earnings!

TAKE ADVANTAGE OF THESE INCREDIBLE FEATURES
Create and manage your own content

Determine your own credit per minute fee for Video Chatting - from 1.00 to 19.95 Credits per minute

Go online whenever you like

Get paid every week, on time every time!

Get Good exposure and traffic
Get top customer service 24/7 by email or phone

Every 2 weeks we award our top earning People with
luxurious gifts from leading brands and designers: Dior sunglasses,
Gucci bags, Versace dinner sets, iPods, and much more!

OPTIONS
Sign up with the Link on the Enroll page